Luxury Modern Shower Cubicles/Shower Enclosure
Products Visitors:4635
Products description:
This shower enclosure may conserve energy, is the environmental protection product, the service life is long. Various functions can be customized.
If you have any questions, please contact us, we will serve you sincerely.
Products Name: Luxury Modern Shower Cubicles/Shower Enclosure
Model: Sigmar044
Shower Cubicles Materials: 5mm Toughened glass,aluminum alloy&ABS board
Advantage Features of Shower Cubicle:
Our shower room:
1.Tempered Glass. (Frabic, clear, matt, grey, bule, printed glass for option)
2.Aluminium profile.( Chrome, white, grey, sand silver, black color for option)
Low tray
Shower Enclosure Composition:
1.Ventilation Fan;
2.Computer control;
3.Luxurious fixed shower;
4.
Mirror;
5.Switch;
6.
Hot and cold water faucet; 30pcs
7.Sharp Massaging;
8.Luxurious roof lamp;
9.
FM riado;
10.Sauna clock;
11.Flameproof lamp;
12.Sauna chair;
13.Sauna bucket,
14.ladle
15.Sauna stove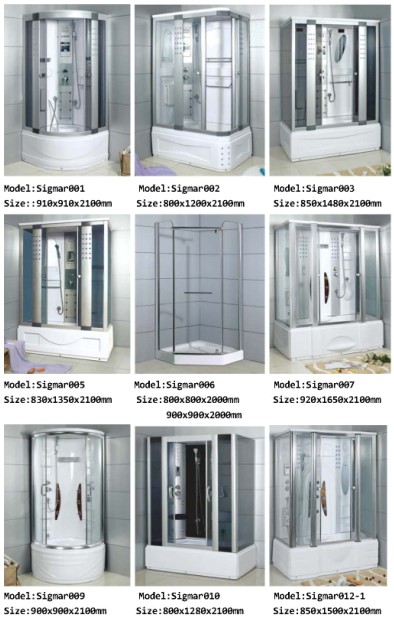 New Products
Relative Keywords
You may also be interested in:
Business Type: